Attention A T users. To access the menus on this page please perform the following steps. 1. Please switch auto forms mode to off. 2. Hit enter to expand a main menu option (Health, Benefits, etc). 3. To enter and activate the submenu links, hit the down arrow. You will now be able to tab or arrow up or down through the submenu options to access/activate the submenu links.

Newsletter | Winter 2020 | South Central MIRECC
The Impact of a Caregiver's Story
A conversation with Sharon Urbina and Dr. Gala True, interviewed by Ashley McDaniel
Sharon Urbina is a military caregiver who is on the cutting edge of participatory action research in VA, including playing a key role in dissemination of research findings. She participated in the VA HSR&D-funded project "From War to Home: The Impact of Invisible Injuries" (IIR 14-399, PI: Gala True). Urbina's journey illustrates the strength of caregivers and the benefits of involving caregivers and Veterans as partners in research.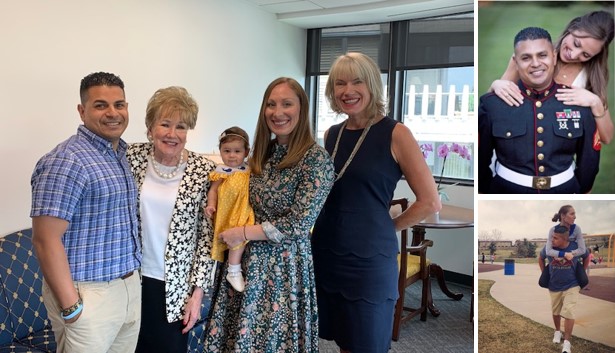 Meet Sharon Urbina
At the beginning of Sharon's caregiver journey, she struggled with feelings of isolation, depression, and loneliness. By participating in the From War to Home project, she was able to reflect on her story and put it in chronological order. "I sat with my feelings and thoughts. I looked at my journey from my experiences at the beginning to now being on the other side where I can share my story in a very authentic way," says Urbina. She and her husband Carlos Urbina, who also participated in the project, were positively impacted and hope their story helps others gauge the burden of caregiving, including the questions and feelings of isolation that may come up.
"Sometimes, I'll say that I don't remember who I was before this study because I feel like a different person. I've been able to heal through telling our story and have built a sense of community with the other participants. The community has helped ease my feelings of isolation, which can have a trickle-down effect on life, such as feeling depressed, alone, or unmotivated. By saying, 'Hey, let me share my story,' maybe one less caregiver will feel as isolated as I did," says Urbina.
The reaction of caregivers to her story also impacted Urbina's journey. "When you share your story and engage with other caregivers, you're able to tap into their knowledge and expertise on things that their Veterans go through. All of sudden, it's like you're speaking to a subject matter expert. They are the resources that you need more than anything else. You can change your future knowing that you have somebody to go to about that matter and also you can get connected to the right resources and that can definitely change our outcomes drastically. It can really change lives," says Urbina.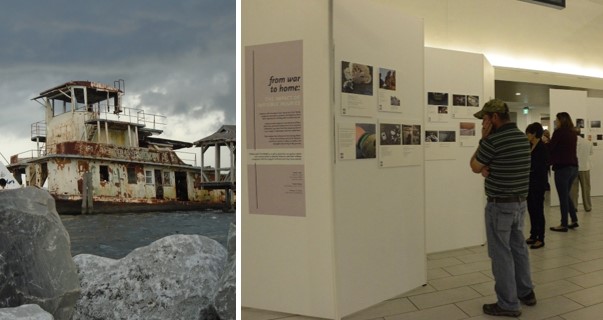 The Project
From War to Home used PhotoVoice, a research method that allowed caregiver and Veteran participants to share their experiences through images and personal narratives. Unfamiliar with PhotoVoice, Urbina was apprehensive when her husband told her about the project. "I didn't know much about PhotoVoice. We'd had a tough time in the VA system at that point and I was hesitant to let people into our home and lives. I was scared for my husband; about how he would handle the interview process and the feelings, emotions, and behaviors that would be dredged up in him. But, he took my hand and led me through. Watching him be able to cope, and then meeting Gala True and Ray Facundo, all of my fears disappeared," says Urbina.
True, the project's principal investigator, and Ray Facundo, the project's program manager, helped Urbina tell her story and build trust with the project. It also helped Urbina and her husband rebuild lost trust with the VA. Urbina adds, "Now I will bend over backwards, contort into a pretzel, do anything for this project because it changed my marriage and my life. Even though I was apprehensive at first, it had the absolute best outcomes."
A Larger Role
Urbina and other From War to Home participants have been partners in disseminating the project to audiences. "At the beginning of my caregiver journey I was in no position to take on anything else, let alone be able to speak to anybody about my journey. I felt like I was drowning on a daily basis. The PhotoVoice project is the first thing I've done that includes my journey and story as a caregiver. The first people I ever told my story to were Gala and Ray. Afterwards, I felt such a sense of healing. I thought, 'Maybe I can do this,' and show the kindness that I'd received to other people," says Urbina.
This work encouraged Urbina to apply for a fellowship with the Elizabeth Dole Foundation, which advocates for the needs of caregivers and their Veterans. Urbina says, "I learned of the Elizabeth Dole Foundation while researching resources when my husband was in acute care. They had a two-year fellowship available and were accepting applications. I said, 'I'm gonna do it.' I was encouraged by Gala to apply. Sometimes, I am still shocked that I was accepted!"
The fellowship brought Urbina opportunities to share her story on a national stage, including a feature of her and her husband in the November 2018 issue of Parade Magazine. They are also regularly highlighted by the Elizabeth Dole Foundation. "I've been able to use our story and our struggles to hopefully eliminate some pain for other people in the world. My fellowship comes to an end this January, but because of the PhotoVoice project, I gained my voice and was able to put together my story so that I could share it. If it wasn't for the project, I would never have had the courage to apply for the fellowship," says Urbina.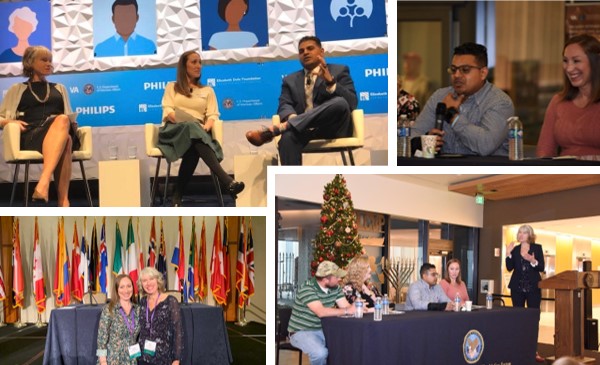 A Two-Way Street
Dr. True emphasizes the impact of this project on a professional and personal level, referring to it as a "two-way street." True says, "Because of Sharon and Carlos's advocacy work, they have opened up opportunities for this research to reach wider audiences. They have made it possible, Sharon especially, for me to meet with people from the Elizabeth Dole Foundation."
True was invited with Urbina to speak at the Foundation's Annual Convening, making the PhotoVoice project the only VA research on the agenda and highlighted at the event. "That never would have happened without Sharon and Carlos inviting me to share in the work that they were doing. One thing we talk about when we present is that this kind of collaboration has elevated the impact and reach of the research through us writing articles and giving talks together. It has also elevated our personal lives, our commitment to doing this kind of work, and our ability to keep going despite any obstacles," adds True.
Impact of the Story
Urbina and True find that there are many messages to take away from these stories for caregivers and their Veterans, as well as the research community. Urbina says, "At the beginning, telling your story is hard. You're telling a story of a place in your life where you were so raw and vulnerable. I want people to look at my exhibit pictures and reflect on their own journeys, stories, and experiences and see that there is light at the end of the tunnel. There is still a lot of joy and happiness in life even though life can really get you down sometimes with the struggles that we go through with our Veterans."
Viewing the exhibit is emotional for Urbina, who relates to the experiences of the other participants. She finds value in the effect it can have on others' lives, adding "If even one parent, wife, husband, or child in the VA walks up to an exhibit photo, reads the caption, and is impacted by it, I feel like I'm not alone, that what I go through with my Veteran is normal, and that I'm doing a good job."
True encourages researchers to realize the importance of involving caregivers in research and health care. "The reason that we focused this research on Veterans and caregivers is because Veterans told us in earlier research that we weren't going to get the whole picture and understand the impact of their physical injuries, PTSD, or traumatic brain injury on their lives, families, and world unless we talked to and involved their caregivers. We definitely found that to be true. Caregivers can help VA and community health care providers and staff, as well as Veterans, understand the full story of these impacts," says True.
True also learned that involving caregivers and Veterans as partners makes research and its reach stronger. "Sharon, Carlos, and others are true partners and collaborators in this research. This approach has elevated the authenticity of the research and our understanding of it. It also elevated who gets to hear about the research and how it is disseminated," says True.
Urbina adds, "Because I don't feel like just a participant in the research but a collaborator, I have confidence in the way my story is told. As a caregiver and Veteran, and I'll speak for my husband, we trust that our stories are going to be told authentically and that they are not going to be shaped into something that they are not. Even though the project has ended, we still feel very invested and we have so much pride in it."
Future Plans
True and Urbina are working on taking the From War to Home exhibit to Capitol Hill in Washington, D. C. They hope that caregivers and Veterans from the project can meet with congressional liaisons to talk about some of the research findings. Additionally, Carlos Urbina is involved in another of Dr. True's HSR&D-funded research projects.
"One of the aims of PhotoVoice is to generate community-identified solutions. We're all invested in building the capacity of Veterans and caregivers in partnered VA research, and Sharon and other caregivers remain involved in dissemination and talking about future research ideas. She's doing a lot of consulting and work with the Elizabeth Dole Foundation, and she and Carlos are working with the project team on papers. We want to solidify the role of Veterans and caregivers as partners in VA research," says True.
For more information about From War to Home, contact Dr. Gala True at Jennifer.True2@va.gov. Caregivers and Veterans can visit https://www.hiddenheroes.org for resources, support, and additional information on the Elizabeth Dole Foundation.
Last updated: October 29, 2020
return to top